Gerbe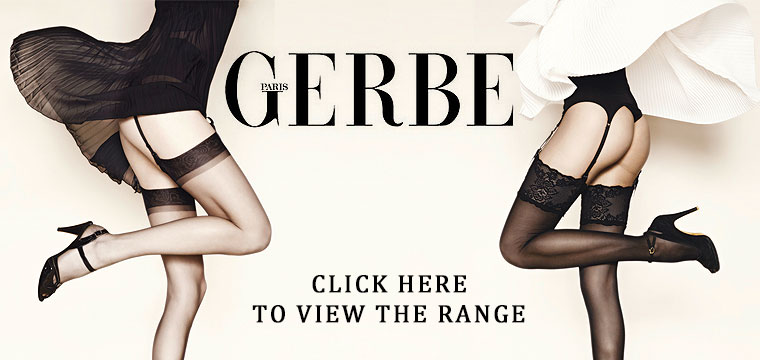 Gerbe is a high quality hosiery manufacturer based in Paris, France. It was founded in 1895 and have bewen producing some of the world's most magnificent tights since. Gerbe is a fantastic brand for tights and hold ups, but it's speciality is stockings. Their stockings are some of the best in the world and with all that European quality at its core.
One of the world's oldest tights and stockings brands. Since the turn of the century, the designers have dedicated their careers to learning and refining the processes that go into making hosiery. The way Gerbe have been making clothing has improved year on year due to their efforts.
Out of Gerbe's current range, you can find an item to suit most tastes. A lot their products are inspired by classical fashion, back seams and RHT stockings. But they love to release a fashion collection that surprises us! Their work is always elegant and of the highest quality.

These sheer, matt tights have a 15 denier appearance and are suitable for all types of...

£26.99

The perfect accompaniment to Gerbe's spectacular new release, Sensation...

£32.99

Essential is precisely that, a pair of tights that is perfect as a core item of your...

£31.99
Gerbe is a different kind of leg wear brand. Eschewing the words "season" and "trend" for more long lasting ones like "style" or perhaps "elegance", Gerbe are one of the few designers left in Europe that specialise in totally timeless and classic designs, even goign so far as to produce and manufacture their amazing leg wear with the good old fashion techniques they've been using for the past century.
A Parisian brand and like so much that originates in Paris, the old ways and the good things are still appreciated and are kept alive in their work. Look through their range and you'll see exactly that. Gorgeous tights, exqusite lace hold ups and the most iconic item of leg wear, sensual black stockings.
These are the things that jump to mind when you think of the old black and white movies, along with other elegant and iconic pieces of clothing. The driving gloves, the cloche hats and the sweeping bell skirts. All these things originated in the '40s and have remained stylish and respected since then. Gerbe seamed stockings are just as iconic and are right there in the minds eye when you think of the elegant and strikingly beautiful women in Casablanca or Rear Window.
Hosiery like this remain some of the most important and influencial articles of clothing in the history of fashion. Why are these things so timeless and why do they still hold an appeal for us? It's simple really. They are simple.

Following the golden advice of keeping Gerbe tights and stockings simple, there is never any clutter or extra features in their finished items when there doesn't need to be. A back seam has always looked incredible on a woman, extending her legs and enhancing her overall figure in a way that few other garments could ever hope to do. Adding extra bits just takes away that impact. That is why items like these became a popular design feature in a time of austerity. They reflected that simple spirit of the '40s and were a true sign of their times. Since then, the back seam has never been beaten in adding elegance to an outfit and a Gerbe know it better than anyone else.

They concentrate instead on beautiful and exquisite fabrics and unrivalled quality in everything they make. Whether it be the stockings themselves or the hosiery gloves and wash bags that they also make, each item is as important as the last. Everything reflects on their name and of the legacy of the products they are making.

Gerbe's love for the classics has earned them the very hard won praise of Paris' biggest names in fashion. Gerbe hosiery is worn by some of the city's most discerning figures and are almost worshipped amongst fellow hosiery makers.
If you want to try a pair of tights or stockings that change your wardrobe completely, something that makes you never want to wear any other brand of leg wear again, choose Gerbe. Browse through their range and click any picture to see more of each design and be taken to a place where you can buy a pair for your own wardrobe.